Rating:
4.5

based on

113

votes
Rate it:
3D Ocean Fly Screensaver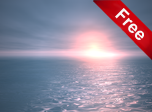 Get ready for a distant seas cruise spirit with free 3D Ocean Fly Screensaver. Fly over sea like you stand at the head of the ocean liner. This screensaver will show you real animated 3D scene with various effects. You will see moving big and small waves on water reflecting sun on sunset evening. Wind adds ripples on water surface. Sun interacts with skyline and fog that gives you smooth view on sun rays. Clouds are high and dense, but weather is not rainy. And besides daytime slightly changes while you fly over sea! Download free screensaver, surprise you family and friends! Screensaver is compatible with any Windows OS and works on any screen resolution. Installation process is fast and user-friendly.
Features
Impressive 3D quality
Realistic waves and sunset
Animated clouds background
Day and night effects
Fits any screen resolution
Compatible with any desktop Windows OS
Compact size and fast installation
Absolutely free 3D ocean screensaver!
System Requirements
Pentium III 900 Mhz or higher
256 Mb Video Memory
15 Mb of free hdd space
Windows XP/Vista/7/8/10
OpenGL 2.0+
3D Ocean Fly Screensaver
Screenshots
Click to enlarge screenshot
3D Ocean Fly Screensaver Video (Click video to play)
File size: 2.7 Mb
Top Screensavers
More free Screensavers
Recommended Screensavers
Screensavers Categories. Browse and Download Free Screensavers