Rating:
4.5

based on

95

votes
Rate it:
Sea Raindrops Screensaver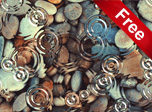 We bring to your attention a high-quality animated Sea Raindrops free screensaver. You will see how raindrops fall into the water, creating circular waves. Many waves from different drops collide, creating unusual distortions of light. And under the water you will see different backgrounds! You will definitely not get bored with this free screensaver, as each time you run it, you will get a random background! We have selected twenty different marine backgrounds, and you will be pleasantly surprised. This screensaver is good for office and home to relax and meditate on break or free time. It doesn't require powerful system resources. But still, if your computer is not very fast, then this screensaver will reduce level of details of the waves automatically! Surprise your friends and relatives with free and unique Sea Raindrops Screensaver.
Features
3D waves from raindrops
Light and blur effects
Fits any screen resolution
20 background images
Absolutely free Raindrops screensaver for Windows 10!
System Requirements
Pentium IV 1800 Mhz or higher
512 Mb Video Memory
70 Mb of free hdd space
Windows Vista/7/8/10
OpenGL 4.2+
Sea Raindrops Screensaver
Screenshots
Click to enlarge screenshot
Sea Raindrops Screensaver Video (Click video to play)
File size: 45.77 Mb
Top Screensavers
More free Screensavers
Recommended Screensavers
Screensavers Categories. Browse and Download Free Screensavers