Rating:
4.5

based on

41

votes
Rate it:
Frost Clock Screensaver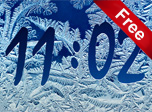 We have been always indifferent to these ice crystals regular hexagonal shape. Snowflakes fascinate by its beauty and geometric perfection. We present you Frost Clock screensaver. Watch beautiful frost snowflakes on your computer. The centerpiece of this screensaver is digital clock, it is nice and functional. Graphics fascinates and captivates. Enjoy frost clock screensaver with the whole family! Very simple to download and install.
Features
Digital clock screensaver
Frost winter window background
Compatible with any Windows operating system
Works on any screen resolution
Absolutely free Winter screensaver for Windows 10!
System Requirements
Pentium III 900 Mhz or higher
256 Mb Video Memory
30 Mb of free hdd space
Windows 2000/XP/Vista/7/8/10
Frost Clock Screensaver
Screenshots
Click to enlarge screenshot
Frost Clock Screensaver Video (Click video to play)
File size: 6.72 Mb
Top Screensavers
More free Screensavers
Recommended Screensavers
Screensavers Categories. Browse and Download Free Screensavers