Rating:
4.5

based on

41

votes
Rate it:
Neon Snowfall Screensaver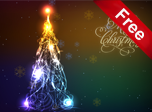 Winter is the time of Christmas and New Year holidays! One of the winter symbols is the Christmas tree decorated and glowing with all the lights. We present you our festive Neon Snowfall Screensaver! This screensaver is rather simple and not overloaded with superfluous graphic effects. You will see a glowing neon silhouette of a Christmas tree, as if it is made by neon lights. The screensaver will give you a good mood and decorate the desktop of your computer. It is universal screensaver, we are sure it will be loved both by adults and children. Graphic effects are simple, but very high quality and stylish. Download Neon Snowfall Screensaver on your computer right now. Installation will take just a few seconds and you will enjoy holidays absolutely free!
Features
Impressive scene animation
Fits any screen resolution
For any desktop Windows OS
Compact size and fast installation
Free Christmas Screensaver for Windows 10!
System Requirements
Pentium III 900 Mhz or higher
256 Mb Video Memory
15 Mb of free hdd space
Windows XP/Vista/7/8/10
Neon Snowfall Screensaver
Screenshots
Click to enlarge screenshot
Neon Snowfall Screensaver Video (Click video to play)
File size: 6.28 Mb
Top Screensavers
More free Screensavers
Recommended Screensavers
Screensavers Categories. Browse and Download Free Screensavers