Rating:
4.5

based on

52

votes
Rate it:
Waterfalls Symphony Screensaver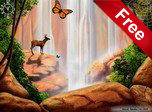 We think waterfalls are the most fascinating and charming places on Earth. You will find realistic waterfalls effects, wide variety of butterflies and dragonflies, crazy fish jumping off the sea and exotic birds, spiders, wood deers and more animals! Dip into the nature with relaxing realistic sounds. More features like analog clock and date are included into waterfalls symphony screensaver. Download and install free waterfalls screensaver to forget your problems.
Features
Animated scenes
Multiscenes screensaver
Flexible screensaver settings
Natural and realistic animals
Nature sounds
Analog clock & date
For any screen resolution
Absolutely free Waterfalls Screensaver for Windows 10!
System Requirements
Pentium III 600 Mhz or higher
64 Mb Video Memory
25 Mb of free hdd space
Windows NT/2000/XP/Vista/7/8/10
Waterfalls Symphony Screensaver
Screenshots
Click to enlarge screenshot
Waterfalls Symphony Screensaver Video (Click video to play)
File size: 60.07 Mb
Top Screensavers
More free Screensavers
Recommended Screensavers
Screensavers Categories. Browse and Download Free Screensavers