Rating:
4.3

based on

35

votes
Rate it:
3D Numeric Clock Screensaver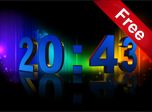 This is our new 3D screensaver clock, made in the technocratic style. Want to take a break while working on the computer? No problem, start the screensaver and you will always know the exact time throwing a glance at your monitor. Large numbers will show you current time. And you will not miss your case for the computer. Quality screensaver will get noticed by others. Install and set 3D Numeric Clock screensaver now!
Features
3D clock screensaver
Different settings
Compatible with any Windows operating system
Works on any screen resolution
Absolutely free 3D clock screensaver for Windows 10!
System Requirements
800 MHz processor
64 Mb Video Memory
15 Mb of free hdd space
Windows XP/2000/Vista/7/8/10
3D Numeric Clock Screensaver
Screenshots
Click to enlarge screenshot
3D Numeric Clock Screensaver Video (Click video to play)
File size: 2.76 Mb
Top Screensavers
More free Screensavers
Recommended Screensavers
Screensavers Categories. Browse and Download Free Screensavers