Rating:
4.2

based on

475

votes
Rate it:
Animated Aquarium Screensaver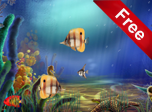 Water is one of the most important elements in people's life. People love watching the river flow, waterfalls, scuba diving to see marine life, hidden in the dark depths of the sea. Some people install large aquariums at home with complex system that requires constant care. Install our aquarium screensaver and you will get the same pleasure as if before you swam real live fish, different colors, shapes and sizes. Realistic effects and quality graphics will decorate your desktop and give you moments of joy and relaxation. Sure, your relatives and friends will be surprised of seeing the monitor animation instead of real aquarium!
Features
Impressive quality
Animated fish effects
Realistic animation
Flexible screensaver settings
Fits any screen resolution
For any Windows OS
Absolutely free animated aquarium screensaver!
System Requirements
Pentium III 900 Mhz or higher
256 Mb Video Memory
25 Mb of free hdd space
Windows 95/XP/VISTA/7/8/10
Animated Aquarium Screensaver
Screenshots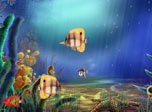 Click to enlarge screenshot
Animated Aquarium Screensaver Video (Click video to play)
File size: 5.87 Mb
Top Screensavers
More free Screensavers
Recommended Screensavers
Screensavers Categories. Browse and Download Free Screensavers