Rating:
4.2

based on

32

votes
Rate it:
Blue Clouds Clock Screensaver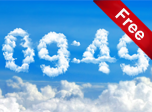 We present you free animated screensaver for Windows 10 - Blue Clouds Clock animated. Serenity... take a break from your work at the computer with this screensaver, just relax and watch the clouds fly over your screen. But you will not forget the work, as this screen saver displays current time with clouds! Never time reminder was so serene and calm. Screensaver is easy to install, it takes up minimal space on your desktop PC. Compatible with any Windows OS and totally free!
Features
Digital clock screensaver
Compatible with any desktop Windows operating system
Works on any screen resolution
Simple and fast installatrion
Absolutely free screensaver!
System Requirements
Pentium 900 MHz processor
64 Mb Video Memory
20 Mb of free hdd space
Windows XP/Vista/7/8/10
Blue Clouds Clock Screensaver
Screenshots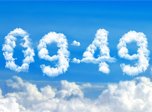 Click to enlarge screenshot
Blue Clouds Clock Screensaver Video (Click video to play)
File size: 64 Mb
Top Screensavers
More free Screensavers
Recommended Screensavers
Screensavers Categories. Browse and Download Free Screensavers