Rating:
4.2

based on

27

votes
Rate it:
Flying Love Screensaver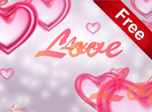 Flying Love screensaver is for the most romantic people! Stylish free animated and beautiful screensaver created specially for the holiday of all loving people. You will see neon like the hearts hovering in the air. It will slowly move endlessly up on your desktop. Screensaver will create a festive mood before the Valentine's Day, and just serve as an excellent stylish decoration for your Windows desktop PC. You can set the screensaver to yourself and to close people in honor of the holiday. Our screensaver is completely free. With the installation of the screensaver on the desktop can even cope the child. Download Flying Love screensaver right now!
Features
Impressive quality
Flying hearts animation
Moving animated background
Fits any screen resolution
For any Windows OS
Compact size and fast installation
Absolutely free Windows 10 Love Screensaver!
System Requirements
Pentium III 900 Mhz or higher
256 Mb Video Memory
35 Mb of free hdd space
Windows 95/98/NT/2000/XP/Vista/7/8/10
Flying Love Screensaver
Screenshots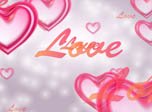 Click to enlarge screenshot
Flying Love Screensaver Video (Click video to play)
File size: 2.08 Mb
Top Screensavers
More free Screensavers
Recommended Screensavers
Screensavers Categories. Browse and Download Free Screensavers