Rating:
4.2

based on

66

votes
Rate it:
Funny Aquaworld Screensaver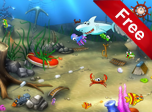 Bring to your attention colorful and funny screensaver of the underwater world. This screensaver will surely attract the attention of underwater kingdom lovers. It suits both for adults and children who love our funny and comic inhabitants. It includes three animated scenes, that change each other beautifully and smoothly. Analog clock, made in the form of a wheel, the underwater flora and fauna. You will also see funny fish, sharks, dolphins, turtles, starfish and seahorses, corals and jellyfish and even a submarine. Install this colorful animated screensaver and make a break from your problems! Funny Aquaworld Screensaver is a wonderful and exciting underwater adventure, soothing and uplifting your mood.
Features
Impressive quality
Multiscenes screensaver
Natural and realistic characters and water effects
Funny sound effects
Flexible screensaver settings
Analog clock
Fits any screen resolution
For any Windows OS
Windows 10 Funny Screensaver!
System Requirements
Pentium III 900 Mhz or higher
256 Mb Video Memory
35 Mb of free hdd space
Windows 95/98/NT/2000/XP/Vista/7/8/10
Funny Aquaworld Screensaver
Screenshots
Click to enlarge screenshot
Funny Aquaworld Screensaver Video (Click video to play)
File size: 3.2 Mb
Top Screensavers
More free Screensavers
Recommended Screensavers
Screensavers Categories. Browse and Download Free Screensavers