Rating:
4.5

based on

37

votes
Rate it:
Halloween Adventure Screensaver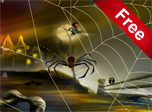 Halloween Adventure is one of the best our screensavers devoted to famous holiday. Halloween is the oldest holiday in the world. Celtic tradition of spirit celebration and Christian saints worship are mixed in this holiday. All sorts of evil come under the ground. Witches flying on the Sabbath, ghosts and vampires no longer shunned by men and appear before them in all its glory. On this night all the evil and dark forces appear out of their hiding places, scaring people who are not lucky enough to be on the streets after the sundown. Ominous shadows appear in ancient castles, all sides are heard strange sounds, and a quiet night no longer seems so safe as usual. Install this screensaver on your computer and watch the mystical characters on the background of halloween night. Mysterious castle in the Gothic style with ghosts, fantastic old trees, huge full moon and of course pumpkin head! Do you like halloween? Then install free halloween screensaver and feel the holiday!
Features
Impressive quality
Multiscenes screensaver
Realistic halloween characters and effects
Flexible screensaver settings
Halloween sounds and music
Vista compatible
Fits all screen resolutions
Absolutely free halloween screensaver!
System Requirements
Pentium III 800 Mhz or higher
64 Mb Video Memory
15 Mb of free hdd space
Windows 95/98/NT/2000/XP/Vista/7/8/10
Halloween Adventure Screensaver
Screenshots
Click to enlarge screenshot
Halloween Adventure Screensaver Video (Click video to play)
File size: 57.55 Mb
Top Screensavers
More free Screensavers
Recommended Screensavers
Screensavers Categories. Browse and Download Free Screensavers