Rating:
4.3

based on

50

votes
Rate it:
Halloween Dusk Screensaver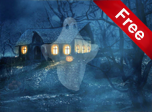 Full moon, night sky with lightning, abandoned buildings, cemetery and cast whirling somewhere in the dark ... Is it scary? Do you want to see everything with your own eyes? Then download our new Halloween Dusk screensaver. A festive, scary screensaver, gloomy and at the same time atmospheric. Just what you need on the eve of All Saints Day! Surprise friends and your family with our Halloween holiday screensaver. Excellent graphics quality, realism, what else do you need? We are sure that you will like our new product. Install Halloween Dusk screensaver on your desktop PC right now absolutely free!
Features
Impressive quality
Ghosts and pumpkins animation
High quality effects
Fits any screen resolution
For any Windows OS
Compact size and fast installation
Absolutely free Windows 10 Halloween Screensaver!
System Requirements
Pentium III 900 Mhz or higher
256 Mb Video Memory
70 Mb of free hdd space
Windows 95/98/NT/2000/XP/Vista/7/8/10
Halloween Dusk Screensaver
Screenshots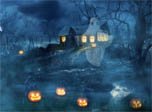 Click to enlarge screenshot
Halloween Dusk Screensaver Video (Click video to play)
File size: 40.8 Mb
Top Screensavers
More free Screensavers
Recommended Screensavers
Screensavers Categories. Browse and Download Free Screensavers