Rating:
4.4

based on

89

votes
Rate it:
Halloween Bats Screensaver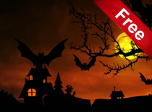 Halloween is a very happy holiday now. But the history of the festival goes deep into the dark past. They began to celebrate it more than 2 thousand years ago. At a time when people were still pagans. It blurs the boundaries between the living and the dead people to scare away any evil spirits dressed up in scary skin to ward off evil spirits on this night. They left treats for ghosts before the door of house. Halloween is popular holiday in the United States, people are prepared for it in advance. Procuring candies and sweets, preparing selfmade costumes. Feast of love especially for children, since to this day children are taking up the baskets and go hunting for sweets. With our new Halloween Bats Screensaver we invite you to prepare for Halloween celebration and plunge into the unusual atmosphere of this autumn holiday! Free screensaver is stylish and unobtrusive, just a few seconds and it will be on your desktop!
Features
Impressive quality
Realistic bats animation
Fits any screen resolution
For any Windows OS
Compact size and fast installation
Absolutely Free Halloween Screensaver!
System Requirements
Pentium III 900 Mhz or higher
256 Mb Video Memory
30 Mb of free hdd space
Windows 95/98/NT/2000/XP/Vista/7/8/10
Halloween Bats Screensaver
Screenshots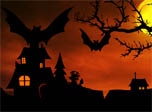 Click to enlarge screenshot
Halloween Bats Screensaver Video (Click video to play)
File size: 66.05 Mb
Top Screensavers
More free Screensavers
Recommended Screensavers
Screensavers Categories. Browse and Download Free Screensavers