Rating:
4.1

based on

174

votes
Rate it:
Mysterious Lakes Screensaver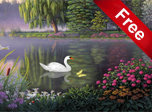 The most beautiful and gracile bird in the world is surely swan. Numerous treasures of art are devoted to these birds. For example Anderson's "The Swan's Nest" fairy tale, Tchaikovsky's "Swan Lake" ballet, Sen-Sans "Swan" composition and other. Free mysterious lakes swan screensaver brings you to the lovely places with these splendid animals. Nice scenes will be complemented with realistic animated butterflies, frogs, dragonflies, deers, woodpeckers, bears,... A lot of options and analog clock is also included in the screensaver. Install mysterious lakes screensaver absolutely free and enjoy swan lakes!
Features
Impressive quality
Multiscenes screensaver
Flexible screensaver settings
Natural and realistic animals, birds and insects
Nature sound effects
Analog clock
For any screen resolution
Compatible with any Windows OS
Absolutely free lakes screensaver!
System Requirements
Pentium III 800 Mhz or higher
64 Mb Video Memory
25 Mb of free hdd space
Windows 95/98/NT/2000/XP/Vista/7/8/10
Mysterious Lakes Screensaver
Screenshots
Click to enlarge screenshot
Mysterious Lakes Screensaver Video (Click video to play)
File size: 56.52 Mb
Top Screensavers
More free Screensavers
Recommended Screensavers
Screensavers Categories. Browse and Download Free Screensavers