Rating:
4.4

based on

94

votes
Rate it:
Realistic Fire Screensaver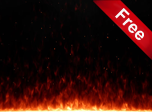 People always praised fire. It attracted them since a long time. People cooked food using fire. Sometimes it has protected them from wild animals. It also lights their home at night and warms when it is cold outside. But it is not safe to create open fire at home! So we offer you to enjoy fire effects using your personal computer. Realistic Fire Screensaver is one of the best flame simulation by modern OpenGL video card. You will see flame with sparkes and smoke clouds. Relax and meditate with free flame screensaver! Screensaver is compatible with 4K and HD monitors and any modern Windows operating system. Just download and install free fire screensaver for your desktop PC.
Features
Realistic flame with sparkes simulation
Fits any screen resolution
For any modern desktop Windows OS
Compact size and fast installation
Compatible with 4K and HD monitor
Windows 10 Fire Screensaver!
System Requirements
Pentium IV 2.0 Ghz or higher
512 Mb Video Memory
100 Mb of free hdd space
Windows Vista/7/8/10
OpenGL 2.1+
Realistic Fire Screensaver
Screenshots
Click to enlarge screenshot
Realistic Fire Screensaver Video (Click video to play)
File size: 1.12 Mb
Top Screensavers
More free Screensavers
Recommended Screensavers
Screensavers Categories. Browse and Download Free Screensavers