Rating:
4

based on

31

votes
Rate it:
Shuffle Desktop Screensaver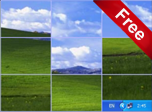 You will find very strange view of your desktop with our Shuffle Desktop Screensaver. First of all it will cut your desktop in 64 pieces. And then mix it in different random ways. But do not worry, if you press any key you will see your desktop, because it is just a screensaver. Some special effects are also added for fun. So it is entertaining and relaxing to observe free shuffle screensaver in action. Download screensaver absolutely free!
Features
Shuffle screensaver
Special effects included
Attractive animation
Compatible with any Windows operating system
Works on any screen resolution
Absolutely free screensaver!
System Requirements
1 GHz processor
64 Mb video memory
10 Mb of free hdd space
Windows 95/XP/VISTA/7/8/10
Shuffle Desktop Screensaver
Screenshots

Click to enlarge screenshot
Shuffle Desktop Screensaver Video (Click video to play)
File size: 1.18 Mb
Top Screensavers
More free Screensavers
Recommended Screensavers
Screensavers Categories. Browse and Download Free Screensavers