Rating:
4

based on

89

votes
Rate it:
Galaxy Dance Screensaver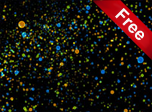 From you desktop you can observe some strange dancing galaxies. These galaxies consist of millions of colorful bubbles, moving in 3D world and forming new figures. But if you don't like galaxies you can imagine sea depth with plankton or anything you want. Leave your thouhgts with free galaxy dance screensaver. A lot of special effects and numerous settings will not leave you indifferent. Try it now, just few clicks to install!
Features
Install/Uninstall support
Windows 95/XP/Vista/7/8/10 compatible
For any screen resolution
Special effects screensaver
Compact size
A lot of settings
Press F1 for help
Absolutely free!
System Requirements
Windows 95/XP/Vista/7/8/10
1.7 GHz Processor with SSE2 instructions
32 Mb video memory
5 Mb free hard drive space
Galaxy Dance Screensaver
Screenshots

Click to enlarge screenshot
Galaxy Dance Screensaver Video (Click video to play)
File size: 0.54 Mb
Top Screensavers
More free Screensavers
Recommended Screensavers
Screensavers Categories. Browse and Download Free Screensavers