Rating:
4.3

based on

87

votes
Rate it:
Sunny River Screensaver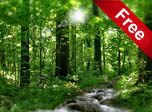 Feel the coolness of the creek with our Sunny River free screensaver. Dense rainforest and rapid mountain river flowing over smooth stones are fascinating spectacle. In addition, most enjoyable are sound effects of the screensaver, the birds singing and the sound of water - is the most ancient human relaxant. Almost anyone like singing birds, as birdsong beneficial effects on human calms him down. Install free river screensaver completely, run it, relax and get new forces for a new business.
Features
Impressive quality
Water sound effects
Realistic animation
Flexible screensaver settings
Fits any screen resolution
For any Windows OS
Absolutely Free River Screensaver!
System Requirements
Pentium III 900 Mhz or higher
256 Mb Video Memory
25 Mb of free hdd space
Windows 95/98/NT/2000/XP/Vista/7/8/10
Sunny River Screensaver
Screenshots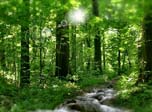 Click to enlarge screenshot
Sunny River Screensaver Video (Click video to play)
File size: 64.95 Mb
Top Screensavers
More free Screensavers
Recommended Screensavers
Screensavers Categories. Browse and Download Free Screensavers