Rating:
4.3

based on

76

votes
Rate it:
Two Valentines Screensaver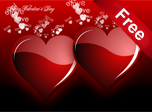 Valentine's Day holiday is one of the most popular holidays in the world. This holiday has a very ancient history. On this day lovers from all over the world give each other chocolates, bouquets of flowers, stuffed toys, greeting cards in the form of hearts. Two Valentines screensaver is a real gift, which you can present to your heart half. Such screensaver present will surprise and delight your soul mate. It's so cute! Our screensaver is absolutely free. It is simply charming, two hearts on the screen beating in the same rhythm. Screensaver can be installed on your desktop, not only on the eve of Valentine's Day, but also on any other day with no reason. It does not require a reason for love! We wish you all the love! Download Two Valentines screensaver right now.
Features
Impressive quality
Great two hearts animation
High quality effects
Fits any screen resolution
For any Windows OS
Compact size and fast installation
Absolutely free Valentine's Day screensaver!
System Requirements
Pentium III 900 Mhz or higher
256 Mb Video Memory
30 Mb of free hdd space
Windows 95/98/NT/2000/XP/Vista/7/8/10
Two Valentines Screensaver
Screenshots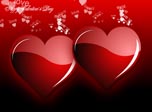 Click to enlarge screenshot
Two Valentines Screensaver Video (Click video to play)
File size: 54.39 Mb
Top Screensavers
More free Screensavers
Recommended Screensavers
Screensavers Categories. Browse and Download Free Screensavers