Rating:
4.3

based on

203

votes
Rate it:
Fantastic Aquarium 3D Screensaver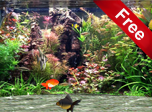 You can enjoy virtual 3D aquarium right on your desktop PC! Fantastic Aquarium 3D is one of the best free 3D screensavers of all times. You will see realistic underwater world scene with all attributes and inhabitants. Animated fish with various colors and marking are swimming around. A flock of small fish swim near bigger fish. Sun glares on water surface, ground and on aquarium background. Water bubbles are moving from bottom to the top of the scene. It all creates unique atmosphere of aquarium. Just download free screensaver and install it on your Windows computer! Screensaver installs in seconds and works on any screen resolution.
Features
Impressive quality
Realistic 3D effects
Flexible screensaver settings
Natural and realistic animated characters
Water sound effects
Fits any screen resolution
For any Windows OS
Aquarium Screensaver for Windows 10!
System Requirements
Pentium III 800 Mhz or higher
64 Mb Video Memory
20 Mb of free hdd space
Windows XP/Vista/7/8/10
Fantastic Aquarium 3D Screensaver
Screenshots
Click to enlarge screenshot
Fantastic Aquarium 3D Screensaver Video (Click video to play)
File size: 1.68 Mb
Top Screensavers
More free Screensavers
Recommended Screensavers
Screensavers Categories. Browse and Download Free Screensavers