Rating:
4.2

based on

28

votes
Rate it:
Fractal Dragon Screensaver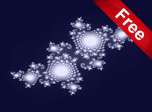 Come to enjoy our first fractal screensaver. This unique smooth animated fractal dragon will surely impress your imagination. Deep into unlimited self-similarity world of great sets. Blue figure is changing while dragon is running around some points in the complex plain. If it is hard for you to understand, just download free fractal screensaver and take a look at all effects we have prepared for you.
Features
Complex fractal screensaver
Great attractive sets
Unique animation
Compatible with any Windows operating system
Works on any screen resolution
Absolutely free screensaver!
System Requirements
1.7 GHz processor
64 Mb Video Memory
10 Mb of free hdd space
Windows 95/XP/VISTA/7/8/10
Fractal Dragon Screensaver
Screenshots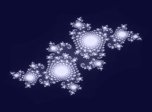 Click to enlarge screenshot
Fractal Dragon Screensaver Video (Click video to play)
File size: 0.82 Mb
Top Screensavers
More free Screensavers
Recommended Screensavers
Screensavers Categories. Browse and Download Free Screensavers