Rating:
4.4

based on

71

votes
Rate it:
Zoom Mania Screensaver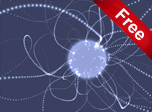 Zoom screensaver zooms you to the infinite existence. Changes colors, sizes and forms. But never ends! Travel to the unknown worlds of zoom mania with free special effects screensaver. By pressing F1 key you can find instructions how to modify the attractors and other options. Screensaver is very compact and fast. Just few clicks to install!
Features
Install/Uninstall support
Windows 95/XP/VISTA/7/8/10 compatible
For any screen resolution
Special effects screensaver
Compact size
A lot of settings
Press F1 for help
Absolutely free!
System Requirements
1.7 GHz processor with SSE2
64 Mb Video Memory
10 Mb of free hdd space
Windows 95/XP/VISTA/7/8/10
Zoom Mania Screensaver
Screenshots
Click to enlarge screenshot
Zoom Mania Screensaver Video (Click video to play)
File size: 0.59 Mb
Top Screensavers
More free Screensavers
Recommended Screensavers
Screensavers Categories. Browse and Download Free Screensavers